Weeks ago, it was reported that while popular ride-hailing companies Uber and Bolt were still in negotiations with the Lagos State Government (LASG), new and expensive regulations were about to be rolled out. These regulations include an initial license fee of N10 million, or N25 Million if they have more than 1000 drivers. And for subsequent years, an annual renewal fee of N5 million or N10 million if they have over 1000 drivers.
These regulations came hot on the heels of the recently implemented Okada ban that hit the motorcycle-hailing industry hard, affecting start-ups like Gokada, Max.ng, and ORide. The ban and rumored regulations caused loud grumbles by affected Lagosians on social media, but yesterday's announcement seems to have tipped the scales.
Yesterday, we shared the news of the launch of Ekocab—an e-hailing platform from Ekocab Nigeria in partnership with the Lagos State Government. The news of this new ride-hailing service, operating with the full blessing of the LASG, elicited a storm of reactions from Lagosians on Twitter, most of which were negative.
Reactions from Lagosians
Some took an I-told-you-so approach to the issue
Lagos allowed Uber, Taxify, Gokada, OPay to test run their ideas only for them to copy it. EkoCab is here, I won't be surprised to see EkoKada.

— AyeMojubar 😷 (@ayemojubar) March 10, 2020
And this was the plan all along.https://t.co/AfDCqibwBZ

— Kathleen Ndongmo (@KathleenNdongmo) March 10, 2020
Some had a live-and-let-live view
If you don't want to use EkoCab, it's your choice stick with it, you can use Uber or Bolt. There's no crime having multiple choices. Nobody dey force you. Only Nigerians trying to destroy Nigerian. SMH.

— Erhire Mag (@ErhireMagnus) March 11, 2020
On #EkoCab. It is fair to give those yellow cab drivers a chance to participate and compete with the ride share, but the structure must be one that strives to be better than uber and not lower.

You shldnt charge Uber or Bolt fees, with kabukabu experience.

— Bolu Ojewole Esq. (@bolu_oj) March 11, 2020
Others simply wanted the app gone…for good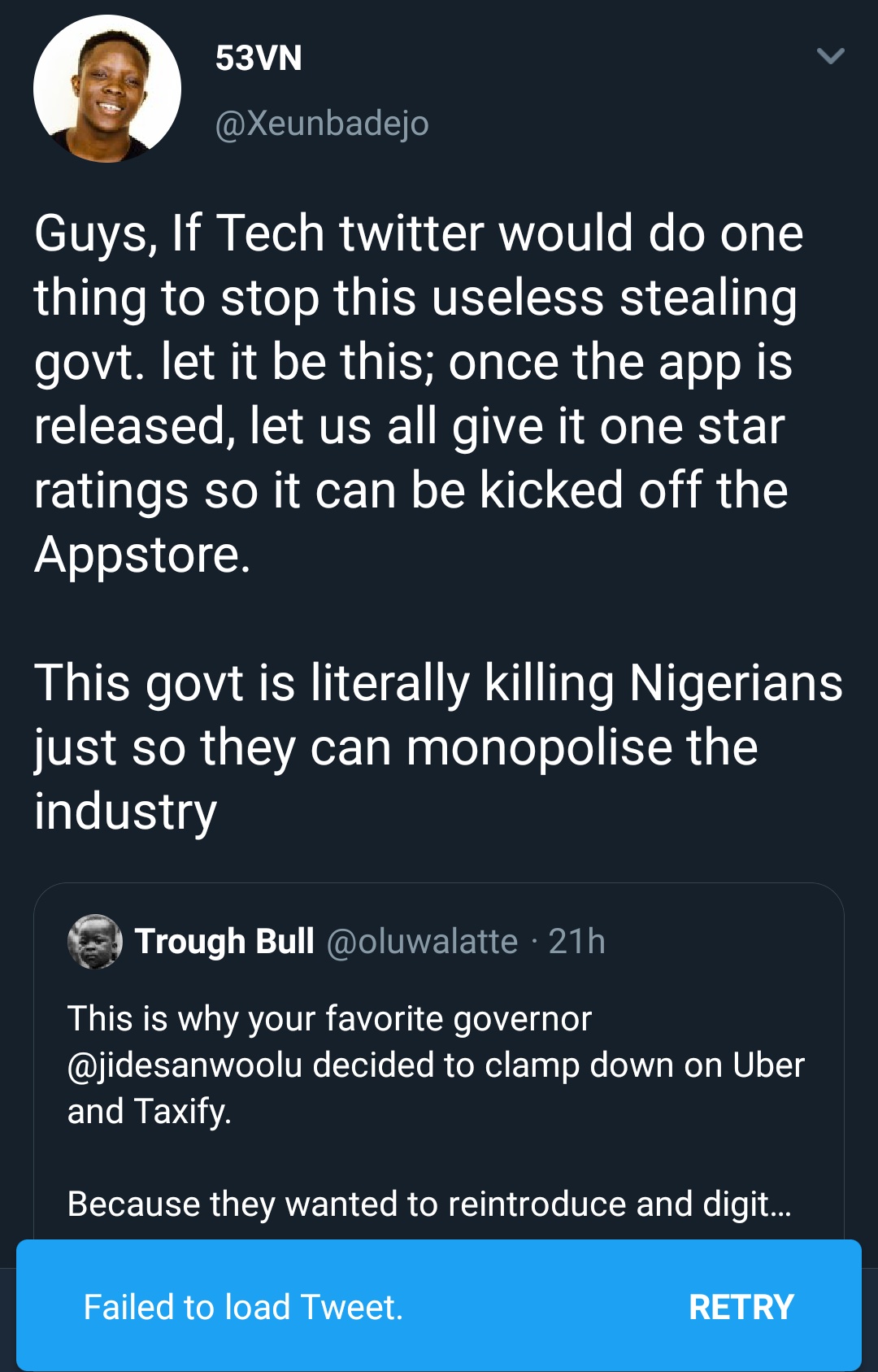 Good morning! Please before you go about your daily activities today, just take some time to download this EkoApp and give it ONE STAR! Yes you heard me. ONE STAR! ⭐️⭕️⭕️⭕️⭕️https://t.co/JG437Zpe1d

— ERomZ #TCD (@simplyEromz) March 11, 2020
Ekocab Damage Control
However, in an interview with WeeTracker, the Ekocab management says "Contrary to the misinformation online, Ekocab is not affiliated to the Lagos State Government. Lagos State is a regulator showing support for players that are working towards the fostering of transport innovation."
"Ekocab isn't limited to the yellow taxi, [we are] also open to unbranded cars. For now, our drivers are mostly from the yellow taxi association, the ones that have been trained and reoriented. We have trained 100 drivers, the ones that are technically-savvy and we plan to train another 500."
Ekocab stated further, "[We are here] to give local taxis a fighting chance and help them achieve a competitive advantage." A statement that is in contrast with the original launch statement that talked of a collaboration with the Lagos State Government.
Meanwhile, where some Lagosians see cronyism and the government's practice of stifling the efforts of private business operators in the state, others applaud the new entry, citing cheaper fares and reduced price surges as an attractive feature of the new Ekocab.
Unfortunately for the developers of the Ekocab app, in less than 24 hours after its release, the app has a rating of 1.1 on the Google Play Store—the result of angry Lagosians and reactions to its unimpressive UX.
200 total views, 1 views today