Nigerian fintech startup Lidya is on a drive to become the world's biggest non-bank lender to small and medium-sized enterprises (SMEs) in the world.
"The idea is to more or less become the biggest non-bank financier to SMEs, in the world. That's what we're building towards," Lidya's Co-founder, Tunde Kehinde told Ventureburn on the sidelines of Web Summit in Lisbon, Portugal this week.
Lidya's platform assists small businesses (SMEs)to manage their funds and provides firms with finance. The startup was founded in 2016 by London-born Kehinde and Turkish-born Ercin Eksin.
The two met after the Eksin completed his MBA and joined Rocket Internet, where he went onto work as CEO for Jumia Africa, at a time when Kehinde was serving as the co-founder or Jumia Nigeria.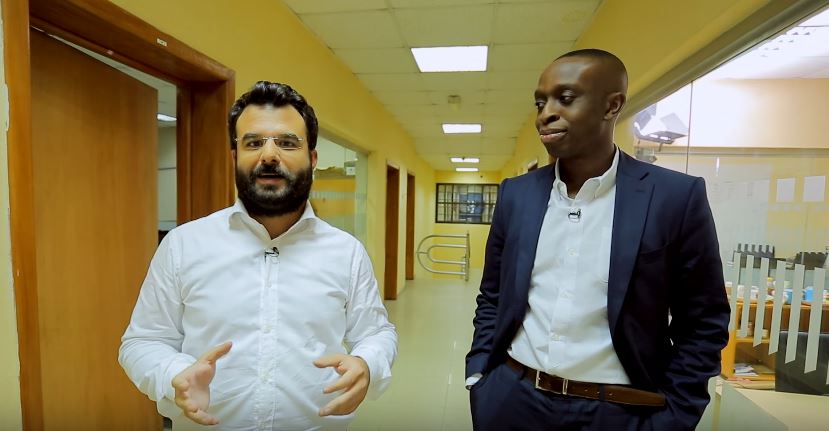 After working together to run a logistics business six years ago, helping small businesses to deliver packages, the two set up Lidya.
In May last year, Lidya announced that it had raised a $6.9-million Series-A round led by Silicon Valley-based philanthropic investment firm Omidyar Network (see this story). According to Crunchbase, the startup has raised $8.2-million since inception.
Since the beginning of 2017 Lidya has lent out over 11 000 loans totaling more than $31m to Nigerian small businesses
Things are going well for Lidya, with the startup having provided 11 000 loans totaling over $31-million since 2017, to a few thousand Nigerian customers — which include businesses such as SMEs, retailers, supermarket owners, boutique stores and pharmacies.
In the startup's first full year (2017), it lent out $2-million to small businesses, in 2018 this jumped to $10-million and in 2019 the startup expects to lend out $22-million.
The number of loans the platform generates is now growing at a steady pace. In August the platform did 700 loans. This grew to 810 loans in September and 950 in October, according to figures provided by Eksin.
Based on this the startup now aims to launch its product in Poland and the Czech Republic by the end of this year.
In preparation for launching the service, it has opened offices in Warsaw and Prague, staffed by five full-time investment professionals in the former and two in the latter.
The idea is to originate the loans and approve them in each of the respective offices, says Eksin.
The two offices add to the three others it already has, namely in New York, Lagos — and in Porto, Portugal where the startup has a tech development team out. In all, the company now has 50 employees from eight different countries.
A $3-trillion market
It's quite a market, says Kehinde, who estimates the SME credit gap in Poland and the Czech Republic alone is valued at close to $3-trillion
Eksin says the startup is focused on fast-growing economies, where the economy is booming and the demand for finance is growing — making it a lucrative bet to get in there.
'We have a 0.6% default rate'
The startup lends out collateral-free loans with an average loan size of $2500. Kehinde claims the default rate is as low as 0.6% of the current lending portfolio — something a bank might even be proud of.
Eksin says the startup gets around not having to rely on collateral to give out loans, by partnering with banks and assessing each potential small business borrower's cash flow and ability to repay a loan, using various data points, when deciding whether to grant them a loan or not.
He claims that while a bank might take weeks to decide whether to grant a small business a loan or not, the startup can do this in a day, with its platform.
However, it does come at a fee — at about 3.5% a month in Nigeria (or a whopping over 40% a year), versus to 2% to 2.5% what banks charge (24% to 30% annually). But it's still lower than 5% to 9% (60% to 108%) that micro-lenders charges, Eksin argues.
Yet isn't the startup then taking business away from banks?
Not at all, says Kehinde. Banks, he says, benefit from the deposits that clients get when the loan is paid out into their account. This is because clients must have a bank account in order to qualify for funding from Lidya.
In addition, the startup's platform allows it to lower the cost of lending, with Kehinde saying the startup is happy to lend out as low as $150 to a client. For a bank, this wouldn't make sense when the cost of lending for a very small loan and a big loan (where it can make more of the interest it charges) is not markedly different.
Global company
While Kehinde spends most of his time in Nigeria, Eksin moves mainly between Poland and the Czech Republic. Like this, the startup is set on becoming a global business.
The fact that Lidya originated in Africa is no stumbling block for the two. Clients and partners don't care where the business is from as long as the tech works and they can get a loan, says Eksin.
Adds Kehinde: "What's top of our mind is how can we help SMEs, it's not whether or not we're Nigerian, (it's) that we have fantastic innovation and have a great team solving a big problem".
The two may have a worthy global outlook, but for now, investors will be looking very carefully at how the African company performs in other emerging markets. Things, for now, are looking good.
6,365 total views, 2 views today