The Intellectual Property Office in the UK has published a study revealing a list of the countries with the highest share of the female investors.
With regard to inventions, especially those of the scientific type, it is easy to think of certain countries in certain parts of the world as leaders. A new study by the United Kingdom's Intellectual Property Office has explored patent-related gender profiles around the world, and the report will leave you flagabasted.
The research titled: 'An analysis of female inventorship' paid attention to inventions from a specific gender over the last decade. In the United States and the United Kingdom, the proportion of female inventors in patent applications stood at 10.04 and 9.44 percent in the period between 1998 and 2017. However, some countries do boast a far higher female share, particularly from Africa.
According to the study, Togo has the highest proportion of female involvement in patent applications from 1998 to 2017.
Uganda is second in the world, with 44.55 per cent followed by Europe's Latvia in third place with 39.05 per cent.
Overall, there are five African nations on the list of the top 10 countries with the most female inventors.
See the top 10 countries with the highest number of female inventors:
Togo — 57.14%
Uganda — 44.55%
Latvia — 39.05%
Liberia — 38.89%
Rwanda — 37.50%
Cuba — 36.73%
Botswana — 35.71%
Sri Lanka — 34.22%
Papua New Guinea — 29.63%
Georgia — 29.56%
Female representation within inventors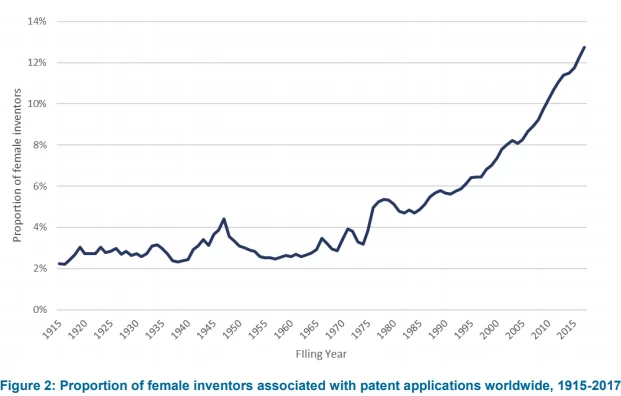 The study explored gender profiles in worldwide patenting, and Statista highlighted the data in an infographic. The study found that the overwhelming majority of patents are filed by men. But over the past decade, things have started to change, though progress is slow.
Perhaps the most interesting revelation came from the data on patents by females, which showed that African women have been doing the most on the scene in the last two decades.
Last year, female inventors were only associated with 13.07 percent of all global patent applications. However, in the 20-year period from 1998 to 2017, it was revealed that Togo had the most invention patents by females than any other country.
Uganda has the second-highest number of patents by females, while Rwanda and Botswana are among other African countries with a high number of patents by females.
1,431 total views, 1 views today