After ten years of supporting the hugely popular OS used by scores of consumers and businesses around the globe was, Microsoft, on Tuesday, January 14th, 2020, ended support for its Windows 7 operating system, which was released in October of 2009. This comes as a blow to many people, given millions of PCs still running the OS despite Microsoft's best efforts.
Security concerns for Windows 7 Users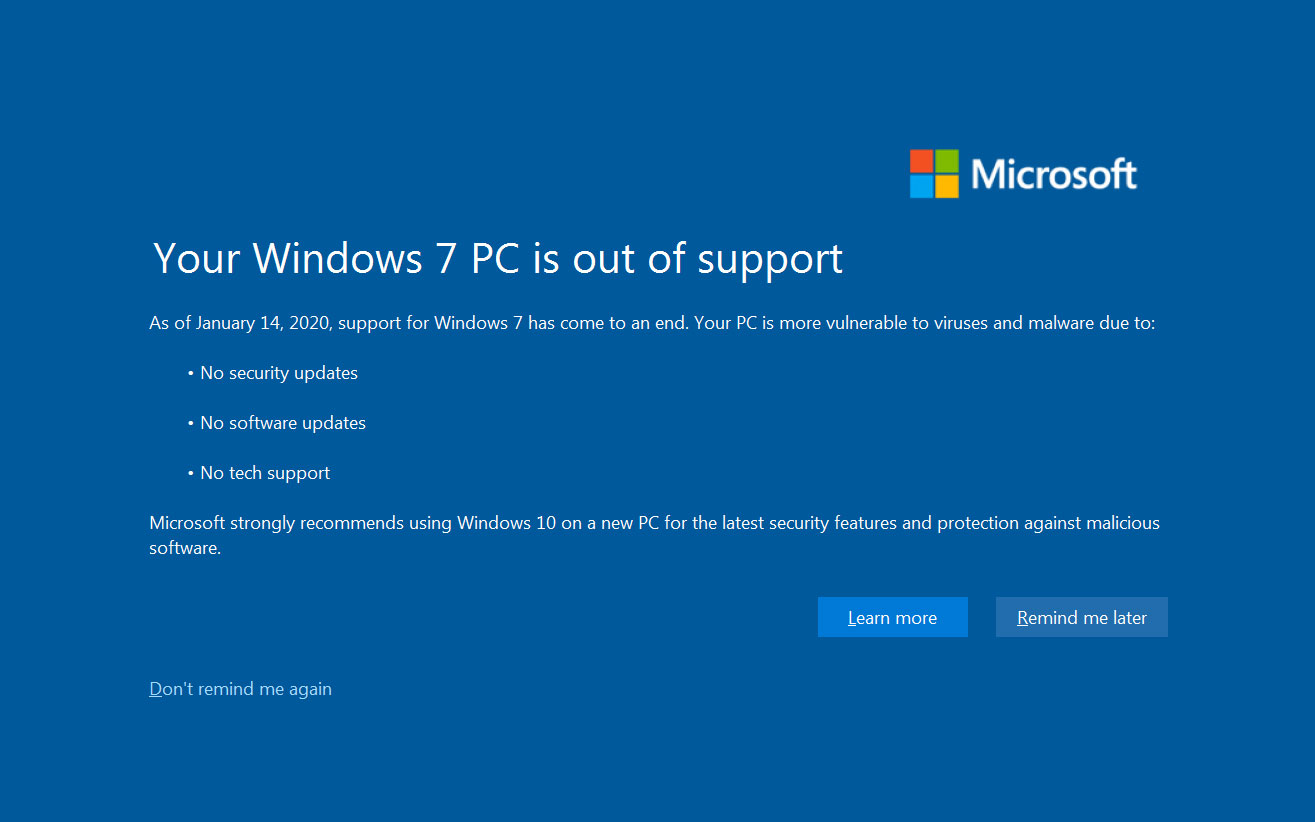 The end of support for Windows 7 means that if you are still among the scores of people using it, you won't have any protection from any bugs or glitches in the software. Don't expect any patches or help from Microsoft if any issues arise.
The software giant released a statement on its website saying, "Microsoft made a commitment to provide ten years of product support for Windows 7 when it was released on October 22, 2009. This 10-year period has now ended, and Microsoft has discontinued Windows 7 support so that we can focus our investment on supporting newer technologies and great new experiences".
"Technical assistance and software updates from Windows Update that help protect your PC are no longer available for the product. Microsoft strongly recommends that you move to Windows 10 to avoid a situation where you need service or support that is no longer available."
What Next for Windows 7 users?
Mainstream support for Windows 8 ended in 2018, and its End of Life has been scheduled for 2023, so it isn't very advisable.
Microsoft has been trying for years now to get users to upgrade to Windows 10. It had offered a free upgrade until July of 2016, but not everyone took advantage. Windows 7 users have now been advised to purchase Windows 10, which currently sells for about $120 or buy a device that has it preinstalled.
Businesses and education users can also purchase extended security updates for windows 7, but it won't be cheap. According to TheVerge, it costs about $25 per machine for extended updates for Windows 7 Enterprise. That jumps to $50 per computer in 2021 and $100 a computer in the third and final year, reported TheVerge.
While Windows 10 can be installed in old systems, Microsoft has advised that the device should have at least a 1 GHz processor, 1GB for 32-bit, and 2-bit for 64-bit devices along with a resolution of at least 800 x 600 for the operating system to work correctly.
82 total views, 2 views today