Risks are everywhere – school, college, personal, financial, career decisions, and life choices. Whether you are a risk-taker or not, you still have to take risks.
The truth is you might have taken a few risks to be where you are today and will be taking some in the future as well. Then, why not be an all-out risk-taker and do things that scare the hell out of us?
This is the compelling story of Kagiso Khaole, Chief of Staff of Samsung Africa.
Kagiso Khaole – Growing up
Kagiso Khaole was born in Bophuthatswana, as it was known at the time – and it is North West now, in a small rural town known as Itsoseng. He went to school like other kids would and decided to try BCom in Information Systems at the University level.
"I've always been entrepreneurial, so in varsity that's where I started exploring other talents that I had. There was a T-shirt printing business and my online store which sold a couple of thousands of products, including DVDs, Blurays. I just wanted to see if I could start something from scratch and I did. It was quite interesting at the time. This one time an email came, and my email was there with Clicks, CNA and Kalahari.net – so it was a big deal for me. I stopped it because of the amount of time it required and to grow it was going to be too much. I even tried out music, not that I was good– I tried Hip-Hop production" says Kagiso.
Even though he studied information systems and business finance, his first job was at Investec private banking – in their legal team. He then moved to operations, working directly with the COO, and was there for about three years before ABSA poached him for their new analytics department within their group finance division. However, the routine of it was simple after some time.
"I did a career reset; I thought I was too young to be in a routine where I know what is going on. I stumbled across management consulting and it sounded interesting with all these guys in suits coming in to fix the business's problems", says Kagiso.
He then applied as a junior at Accenture and quickly worked his way up the ranks, before landing several roles in insurance at Hollard and his current job at Samsung. He holds an MBA from Wits Business School, which was decorated with a stint at the University of North Carolina as an exchange student.
Kagiso Khaole on Changing the women narrative in the Telecoms and IT sector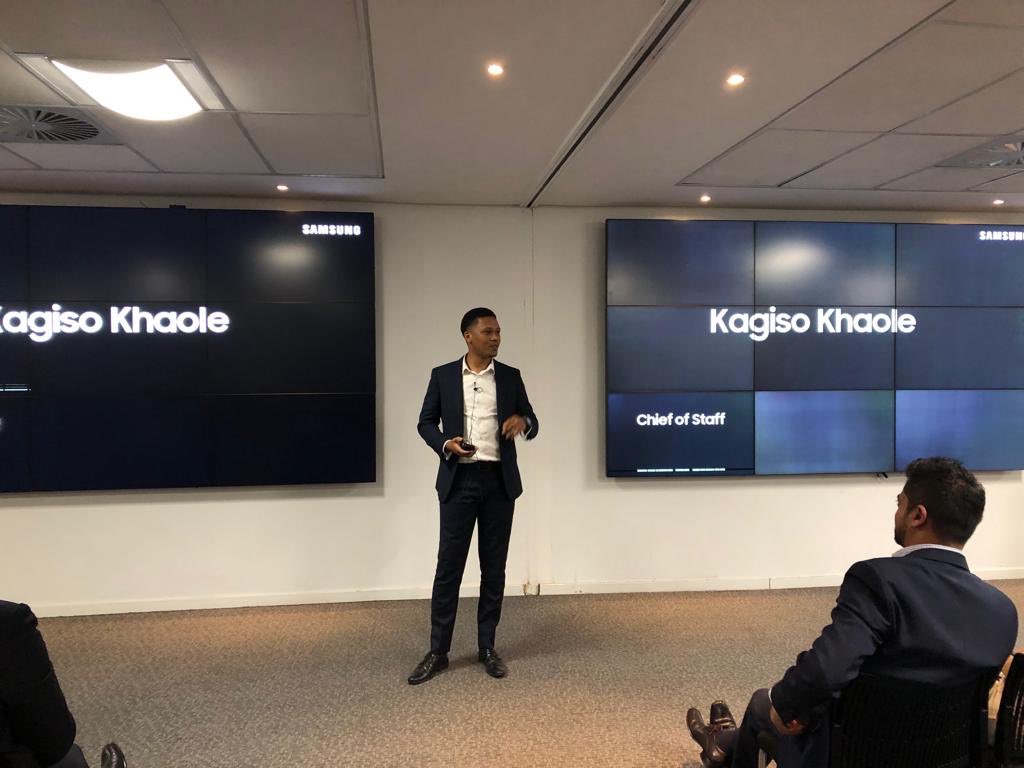 Kagiso Khaole is also keen on changing the women narrative in the telecoms and technology sector. It's an important question" why are there so few women working in the IT and telecoms sector?"
"The telecoms & technology sector needs to work extra hard to in recruiting, training and retaining women in the industry. It's a male-dominated business that serves female market. I recognised that I have to do my part in shifting the narrative", says Kagiso.
He believes that organizations should develop policies that caters to women who enter motherhood in a more enlightened manner. Each maternity period can set women's careers back years in income and job progression. That can't be right, for the individual and society.
The major challenge that Kagiso has is "how do we do things here in South Africa and the African continent that resonates across the world?"
"With the little bit I can do, I'd like to make sure that South Africa is on the global map. In the technology space, we're in the same playing field with the US, UK, and Korea and we are – my team and I – really working out to bring out a lot of firsts", adds Kagiso.
READ ALSO: Microsoft Appoints Ghana's Tech Queen, Ivy Barley as Program Manager