Photo: The Guardian Nigeria
How Davido Is Changing Lives Through His Foundation
Nigerian Afrobeats Artist, David Adeleke popularly known as Davido has through the David Adeleke Foundation (DAF) donated over N200 million to orphanages throughout Nigeria.
He disclosed this in a tweet via his verified Twitter handle today. In the screenshot of the statement, Davido noted that the distribution of the donation was led by the chair of the DAF Disbursement Committee, Mrs Titi Adebayo.
Davido revealed that the foundation successfully distributed funds to 424 orphanages, and a total of 13,818 children benefited from the disbursement.
He also appreciated the individuals and organisations that assisted in raising the donation sum and prayed God's blessings upon them.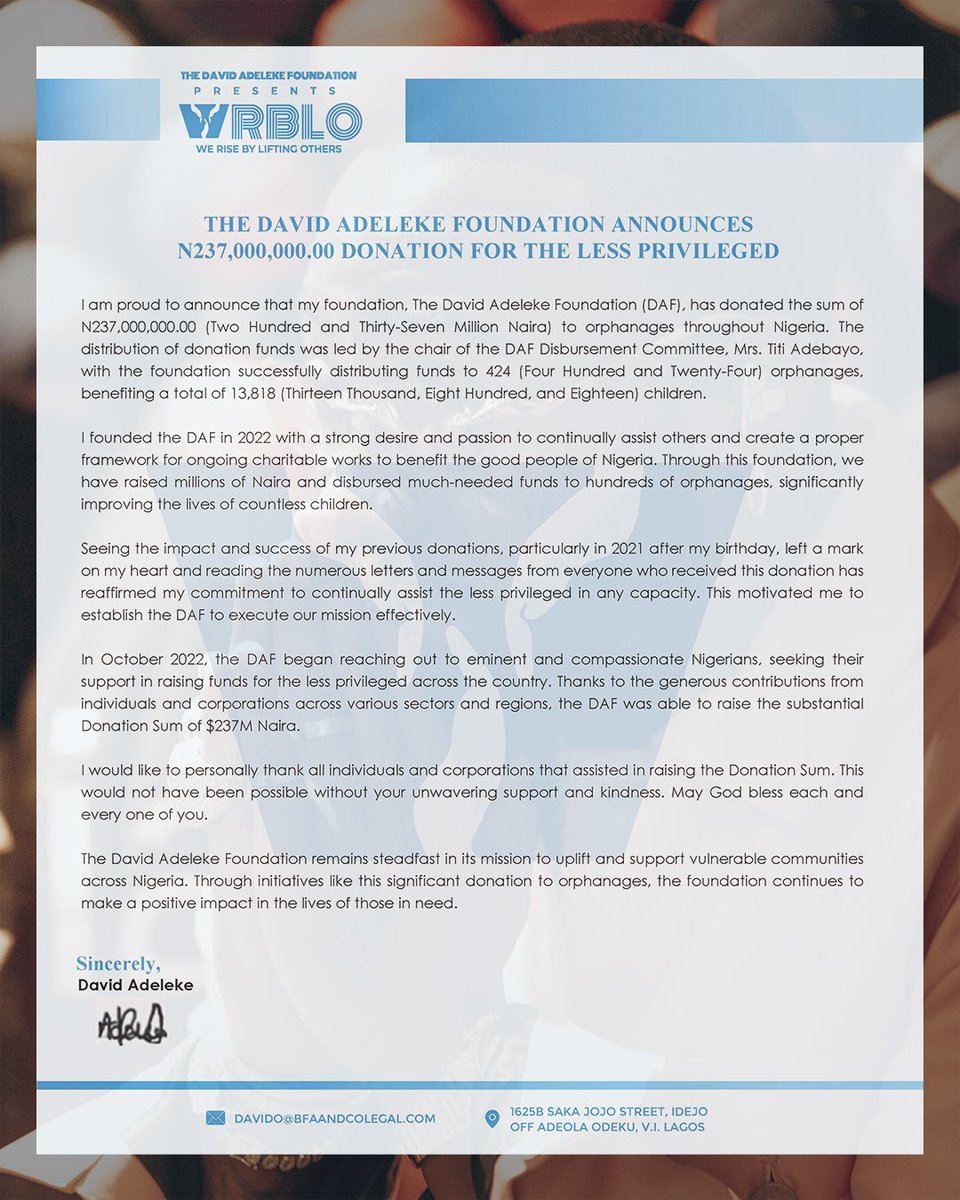 What you need to know about Davido's foundation
Davido's Foundation was established in 2022 with a strong desire and passion to continually assist others and create a proper framework for ongoing charitable works to benefit the good people of Nigeria.
Through the Foundation, millions of Naira have been raised and disbursed to hundreds of orphanages, significantly improving the lives of countless children.
How it all started
Davido also hinted that the impact and success of his previous donations, particularly in 2021, after his birthday, left a mark on his heart that made him reinstate his commitment to rendering assistance to the less privileged in any capacity.
He also noted that the 2021 birthday contributions motivated him to establish the foundation in order to execute his mission effectively.
The Nigerian music artist revealed that the foundation started reaching out to eminent and compassionate Nigerians in October 2022. He said through their generous contributions the foundation was able to raise the substantial Donation Sum of over N237 million naira, which was distributed accordingly.
Going further, Davido pledged that DAF remains steadfast in its mission to uplift and support vulnerable communities across Nigeria.
The National Association of Nigeria Nurses and Midwives, NANNM, Lagos State Council, has a…